Tokyo town guide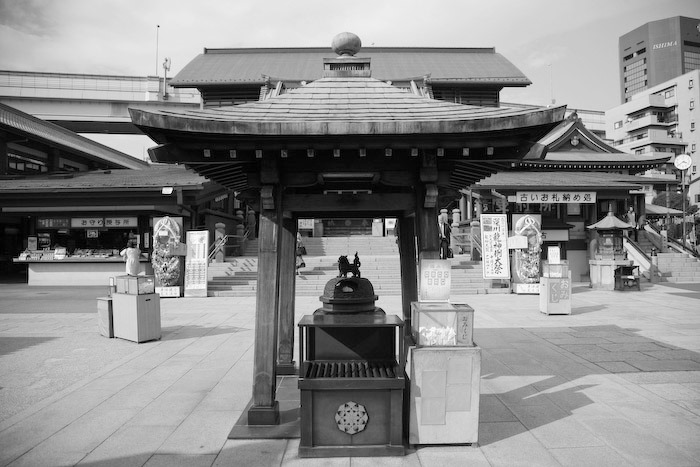 Tokyo Downtown
深川 門前仲町
Fukagawa For Free (Or Nearly)
Hugging the eastern bank of the Sumida River, Fukagawa may be one of Tokyo's least-touristed districts. It includes the areas around Monzen-nakacho, Morishita, Kiyosumi-shirakawa, and Kiba stations, Marble-halled Ginza and quaint Asakusa are famous for their pockets of old-fashioned elegance - that toe-pointing, fan-snapping, drop-dead blase elegance called "Iki" that can only be found in Tokyo's Shitamachi, and is best translated as sangfroid; but their eastern neighbor offers an equally traditional, yet homier ambiance. In Fukagawa, the clatter of geta is more likely to be a senior citizen bustling out to water her garden-in-pots, and the street stalls sell THOSE FISH-SHAPED SWEET PASTRIES and yakisoba instead of souvenir goods.
Every visitor to Fukagawa should stop by Tomioka-Hachimangu, the Shinto shrine that stands at the end of a sweeping stone approach, a couple of blocks down the shopping arcade of Monzen-nakacho from its Buddhist counterpart, Fukagawa Fudoson. Tomioka-Hachimangu is the starting point of the Fukagawa Hachiman Matsuri, the once-in-three-years festival that is coming around again in August 2008. The festival's Mikoshi - portable shrines - will cover a slow, wet, crowded, route through Koto and Chuo Ward; for a more modest perambulation you can make on your own time, why not visit all seven Lucky Gods of Fukagawa? A handy map is Here.
Leaving Monzen-nakacho by Eitai-dori, Fukagawa's central artery, we reach the Sumida river, admire the view of Tsukishima's residential towers, and note the absence of homeless people's tents. A couple of years ago, in a rare show of heartlessness, Koto Ward (which includes Fukagawa) legislated the "blue tarpaulin uncles" off its riverside real estate. They all moved across the border to Sumida Ward; the riverside promenade of Fukagawa is either the bleaker or the prettier for their absence, depending on your temperament.
There will be little dissension, however, regarding the aesthetic charms of Fukagawa's largest shopping center, the ITO-YOKADO At KIBA , which includes a cinema and a Starbucks as well as four floors of shops and restaurants. A temple to the minor Japanese god Convenience, it is not recommended for the traveler who seeks a memorable dining or shopping experience.
Adventurous diners are advised to try one of the hole-in-the-wall sushi bars on the shopping arcade that connects Kiba with Monzen-nakacho. This shotengai dates back to the Edo era, and one would swear some of the shops do, too. However, while many of the best and oldest things in Fukagawa are free, good food is not. The kaiten-zushi nearest Monzen-nakacho station offers especially good value. For a more leisurely meal, try LA RAINETTE , which offers real - not Japanized - French food and excellent wine from \300 a glass. ROTIE , up the hill from Monzen-nakacho station, serves tasty pizza at reasonable prices. But the crowning jewel of Fukagawa restaurants, in my experience, is Dining Son, around the corner from Kiba station, a family-run Korean place whose jolly proprietress encourages you to try the MILKY ALCOHOLIC STUFF and linger over your THOSE KOREAN PANCAKES - though they're so scrumptious you're likely to scarf them down and order seconds. Finally, a nostalgic shitamachi treat that will leave your tastebuds reeling in confusion is the famous Harajuku Dog, available in its original form only in Morishita.
Licking our lips and moving on, no visit to Fukagawa would be complete without spending a couple of hours at the FUKUGAWA-EDO MUSEUM. This is essentially a roofed, self-contained recreation of a block of Edo Tokyo, complete with a fire watchtower, fruit and vegetables in bins at the greengrocer's, tea set out in tatami front rooms, and gondolas floating on a canal with real water in it. So uncannily perfect are the recreated homes and shops that one is reminded of Hokusai's scenes of daily life in Edo, without any people. These tableaux of material goods don't quite achieve the eeriness of the life-size mannequins beloved of other Japanese historical museums, but the overall effect is chilling, and as the sky pales from dawn, to noon, and darkens towards sunset again, all in the space of thirty minutes, you may start to feel unmoored from reality.
At the very least, you'll gain an added appreciation for the frowsty grey shitamachi streets outside, in all their lack of glamour and humanity.